Can we celebrate Gotta Kick It Up! for a second week in a row? Sí se puede!
Last Wednesday (July 26), we celebrated the 15th anniversary of Disney Channel's Gotta Kick It Up! and today we are doing the same. While last week was the official anniversary, this film is so significant that we are going to continue the celebration.
A film so nice, we're celebrating it twice!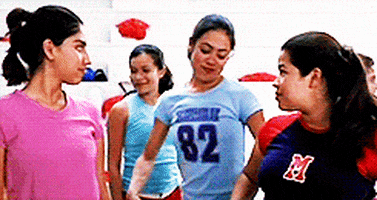 If you missed the first celebration, here's the link to last week's post about why I think it's so important and the breakdown of what the cast is up to now. Since you've already heard from me, I thought it would be a good idea to hear from someone incredibly involved in the project ; its screenwriter, Nancy De Los Santos.
The dancing DCOM, starring the wonderful Camille Guaty and America Ferrera, was based on a true story, which Nancy helped bring to life. Nancy worked with Meghan Cole, whose story this film was based on, to bring these strong, independent, fierce, talented characters to the screen and we can't thank both of them enough.
We also can't thank Nancy enough for giving such an in-depth and honest interview about what Gotta Kick It Up! means to her, how it was made, its influence in both Hollywood and society as a whole, and what she hopes people take away from the film.
Keep reading to find out straight from the film's screenwriter (via email), Nancy De Los Santos, just why Gotta Kick It Up!'s 15th anniversary is such an powerful event to celebrate.
Millennial Hallmarker: You had a few producing and writing credits before taking on Gotta Kick It Up!, which turned 15 years old last week, but not too many. How did Meghan Cole seek you out for this project? What about the idea made you want to jump on board?
Nancy De Los Santos: Meghan, if I remember correctly, was working at Disney. Not in the MOW department, but in some capacity in animation. She pitched the story to the Disney MOW department, and was given the green light to develop a script. Meghan saw this story as a "Latina story,' and wanted to have a writer who was sensitive to the Latino community. She contacted my agent at ICM, who then introduced us.
MH: Can you explain a bit more about the real-life background of the story?
NDLS: From what I remember, Meghan had been involved in America Teaches (or another educational organized effort) that placed new teachers into communities in need of teachers. Meghan was placed in a local Los Angeles low-income area. Meghan was there to teach English, but soon found out the Girls Dance Team did not have a teacher-sponsor. Since Meghan had been a member of her high school's dance team, she volunteered to be the Dance Team Teacher Sponsor.
MH: How did you prepare to write this script? Who did you talk to, where did you visit, what kind of mindset did you have to get in?
NDLS: I was fortunate that the junior high school where Meghan taught was in the Los Angeles area near Huntington Park. As soon as I was hired, I contacted the school and made arrangements to meet with the current dance team members. Some of the young ladies who had been on Meghan's team were also contacted and joined us for interviews. Meghan and I spent a great deal of time working together. She told me her story and while the film is not a direct reflection of her experience, it certainly is the blueprint.
MH: To see an all-Latino main cast in a TV movie, especially on a channel like Disney, is still such a rarity. Was it an easy sell to the Disney execs back in the early 2000s or did it take some convincing?
NDLS: Oh, I agree an all-Latino/a or even, as Kick It Up was, a "mostly" all-Latino/a cast is a rarity – not just on Disney Channel, but on every English-language outlet – then, and now.
I wasn't involved in Meghan first selling the idea to the Disney Execs.
MH: Why do you think there are still so few Latino-led movies and series?
NDLS: Why are there still so few Latino-led movies and series? That is the trillion dollar question. Research proves that films with diverse casts tend to have bigger box office results. Why wouldn't studios and networks want to make more money? I was surprised at what I can only describe as a great pool of dislike, even hate, in our country that was uncovered in last year's election. It feels that a lot of folks in our country don't want people of color to be part of the American Dream.
Would the answer to your question be that the folks who are responsible for greenlight projects at networks and studios are just not conscious of the Latino community? I'd be hard-pressed to believe that to be true; but what else could it be? Racism? Exclusion?
A recent study by the University of Southern California concluded "Latinos, the largest minority in the nation, and the largest racial or ethnic group in California and Los Angeles, are disappearing from the big screen." According to the report after analyzing the top 100 grossing films of 2016, they discovered Latinos accounted for only 3.1 percent of the film roles. This is the lowest this number has been since it began over 10 years ago. And the same or similar can be said for television. Who are the Latino stars on television? The starring or co-starring roles for Latinos on televisoin are very few and very far between.
One reason for the lack of Latino characters or an all-Latino cast I constantly hear is that executives think that Univision and Telemundo (and other Spanish Language outlets) has that audience covered; there's no need to cater to that audience. But, the Spanish-language audience is not the English-language Latino audience. Most English-language Latinos, and bi-lingual Latinos, many who have had a very "American as apple pie" life experience, watch and attend only English language films and television. Executives may dismiss the audience as being "taken care of," but the Latino audience is wide and varied. The Latino American audience wants to see Latino representation on English-language programs and films. Whatever the answer is, it is my mission, and the mission of many Latinos working in the business to be a part of changing those dismal numbers.
MH: Did you feel pressure to do this story justice?
NDLS: Oh, my. No! There was not any pressure on my part to "do the story justice." It was a joy to tell this story. And while I was never a dance team member, I knew the feeling of being judged and considered to be less than, for the color of my skin and my ethnicity. And I listened to each of the young girls we interviewed. They told their story through me.
MH: Why is this movie so important for the Latino community, and for Hollywood as a whole?
NDLS: As far as I know, "Gotta Kick It Up" was The Disney Channel's first Latino/a-centric movie of the week. I also remember that it was well-received and for a few years after its initial screening, was one of the channel's top-rated movies. This is important to Disney because it proves they are forward-thinking folks who know their audience and know the Latino/a audience is only going to grow. And they've proven that again with their recent hit show "Elena of Avalor," an animation show starring a Latina princess. Along with Walt Disney's new feature film, "Coco," centered on the Mexican holiday, Dia de los Muertos. It's important to Hollywood as a whole, as it should have alleviated their fears of "Latino" not selling or crossing over to the non-Latino audience. Granted, both of these projects are animation, and I support them wholeheartedly, but I would like to see many more live-action Latino/as and Latino stories on every outlet.
MH: What has this movie meant to you – both professionally and personally?'
NDLS: I am proud of all my work. I've been so very fortunate to work on many varied and special projects. But…. "Gotta Kick It Up" was my first major writing credit, and I will always hold this story dear to my heart. When it first aired, and for about five years after that first airing and sub sequential airings over the year, I've had countless young girls – all Latinas – tell me that "Kick" is their favorite film or tell me who is their favorite characters. Some have said that seeing the film made them out and try for their school's dance team, or cheer team, or basketball team. I'm always pleased to know the film touch and moved them. And, I'm shocked that they read the credits! But they did! If one movie could move a young girl to believing she could be that person in the film, and do great things – that's a wonderful accomplishment.
MH: What's your favorite quote from the movie? Favorite scene?
NDLS: I love, love, love the 'tryouts,' especially America Ferrera's dance from the heart.
MH: To this day, so many (of all backgrounds) still quote this movie. Especially saying, "Si se puede." Was this something the dance team would say in real life? How did this saying come to be and can you explain its importance in the film?
NDLS: I am extremely proud of getting "Si, se puede" into the script and onto the television screen, but it's not a dance phrase, or it wasn't at the time. "Si, se puede" is Spanish for "Yes, you can!" "Yes, it is possible!" And, it is the motto of the United Farm Workers Union, co-founded by union activists Cesar Chavez and Dolores Huerta. The phrase is credited to Ms. Huerta in support of Cesar's hungry strike during the union's creation. I love the phrase, and wanted the young dance team to have words that reflected their strength and commitment to their goal. And, it was great to hear these words spoken on television. Always makes me smile.
MH: How was the film's title chosen? Does it have significance to the story?
NDLS: From what I remember, Meghan created the title "Kick it Up," but that title belonged to another film; the "Gotta" was added.
MH: This film not only has strong Latina characters, but just strong female characters in general. I love that the women in Gotta Kick It Up! are such strong, determined, women. How does it feel to write such great female characters?
NDLS: Strong, determined, dedicated and generous female characters are a pleasure to write. Being strong doesn't mean you always make the right choices. Being determined doesn't mean you always succeed. Being dedicated doesn't mean you never veer from your path. And being generous doesn't mean you don't take care of yourself. It's in those moments that I place my pen and begin to write.
MH: What do you hope viewers, who might now be watching for the first time, take away from this movie?
NDLS: That we are all human beings living our lives as best we can. We all have hopes and dreams. We all have obstacles. Latina. Black. White. Asian. Mixed. And, everything in between – We all have shared experiences as human beings. And, we live those experiences through our own special filters and lenses. Sharing these stories among ourselves, make us better human beings.
MH: What was the hardest part about writing this script?
NDLS: Writing can be a challenge, but I didn't experience any difficulties in writing this script. And I'd love to write another! Hey, Disney Channel! I have a few ideas!
MH: Were you able to visit the movie set?
NDLS: No. I didn't go to set. I think it was shot in Canada.
MH: Prior to writing Disney Channel's Gotta Kick It Up!, your most notable credit was as an associate producer on Selena, which just turned 20 years old. How did you get involved with that project, what was your role with it, and what did that film mean to you?
NDLS: I originally worked with writer / director Gregory Nava (El Norte) on a few projects, including his previous film, My Family, Mi Familia, which was one of Jennifer Lopez' first feature roles. I was the Associate Producer on that film, working with Nava as a researcher for the script and being on-set, linking the director to the production departments and crew members. That was my first big film production, and it was amazing. When Nava was hired to write and direct Selena, he asked me to work with him, again as Associate Producer, researching script details, and working as a production liaison. It was my honor to be a small part of that magnificent film. Selena was the most emotional project I've ever worked on, and will always be one of my best memories.
MH: Have you heard of the new female-created streaming service, PassionFlix, which is launching this year? The service is all about female-driven shows and movies. Do you have any thoughts on this type of company?
NDLS: I have not heard about this outlet, but will check it out!
MH: What are you working on now? Are you currently writing any other movies or possibly shows?
NDLS: At the moment, I'm involved with a number of projects. I'm developing a reality series with a young Latina entrepreneur, centered in the "quinceañera" business. I'm co-directing a play based on the last day of Mexican artist Frida Kahlo. I'm working with a young Latina opera performer and a well-respected music composer on an original opera. I have a television series I'm hoping to sell to network television based on the life of the first Latina president of a major university. And, hope to direct my first feature, a rom-com that I wrote about three friends to get a prayer guaranteed to find them their perfect mate!
MH: What's your advice for someone that wants to get in the screenwriting business?
NDLS: I discovered early in my career what my mission is – and that is to be part of changing the image of Latinas and women on every media front – film, television, radio, and stage. This is a tough business. And to stay in it, you have to be committed to it. I'm committed to my mission, and I love writing. I suggest that anyone considering a life in the arts to take a long and deep dive into their hopes and dreams. Take your commitment temperature, and before you jump, ask yourself what truly makes you happy. Writing for television and film is challenging and rewarding, but the foundation to flourish is based on your commitment.
MH: At Millennial Hallmarker, we believe that TV movies aren't a guilty pleasure, simply a pleasure. Do you believe that? What do you have to say to people who don't understand why you would want to write a TV movie or watch one?
NDLS: It's the story that is important, not the medium. Television movies may have once had the reputation that they are 'less than' feature films, but times have changed. Artists want to create. Directors who direct feature films, have also directed MOWs. Actors from theatre star in MOWs. Writers will write with their hearts for any and all mediums. It's the story!
MH: Is there anything else you'd like to add or tell fans about Gotta Kick It Up!, the cast, anecdotes, Disney Channel, or yourself?
NDLS: I love that this film was the starting point for two talented and creative actors, Camille Guaty, now seen on "Daytime Divas," and of course, America Ferrera, now seen on "Superstore." Both of these terrific artists have continued to have successful careers in film and television. "Gotta Kick It Up" helped them to establish their careers. The film had a hand in giving these young actors the opportunity to hone their craft and to shine. It worked! They both developed into bight and success stars!
What has Gotta Kick It Up! meant to YOU? What's your favorite part of the movie? Share your thoughts!
*Be sure to subscribe to this blog and follow along on social (Twitter/Facebook/Instagram) for a personal take on news, reviews, interviews and everything in-between.*