Can we celebrate Gotta Kick It Up! for a second week in a row? Sí se puede!
Last Wednesday (July 26), we celebrated the 15th anniversary of Disney Channel's Gotta Kick It Up! and today we are doing the same. While last week was the official anniversary, this film is so significant that we are going to continue the celebration.
A film so nice, we're celebrating it twice!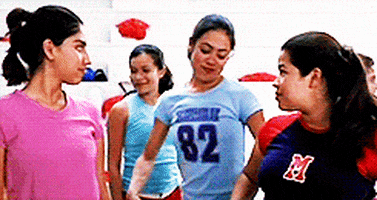 If you missed the first celebration, here's the link to last week's post about why I think it's so important and the breakdown of what the cast is up to now. Since you've already heard from me, I thought it would be a good idea to hear from someone incredibly involved in the project ; its screenwriter, Nancy De Los Santos.
The dancing DCOM, starring the wonderful Camille Guaty and America Ferrera, was based on a true story, which Nancy helped bring to life. Nancy worked with Meghan Cole, whose story this film was based on, to bring these strong, independent, fierce, talented characters to the screen and we can't thank both of them enough.
We also can't thank Nancy enough for giving such an in-depth and honest interview about what Gotta Kick It Up! means to her, how it was made, its influence in both Hollywood and society as a whole, and what she hopes people take away from the film.
Keep reading to find out straight from the film's screenwriter (via email), Nancy De Los Santos, just why Gotta Kick It Up!'s 15th anniversary is such an powerful event to celebrate.